The ecstatic historical ambience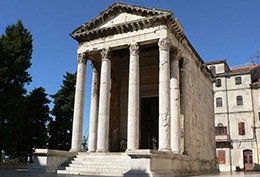 In the centre of Pula is situated the other restaurant da Piero II, near the archeological findings, the Temple of Augustus and the Forum square. This place is perfect for those who like to enjoy the Mediterranean cuisine, delicious food, quality wines, perfect ambience with wonderful music and the overwhelming staff who you will hardly even notice.

This is not an ordinary place, just as restaurant da Piero is not a regualr restaurant; this is the the place of biblical importance, real history and magnificent architecture. Spacious restaurant terrace is almost touching this mystique of historical findings, there is much light and attention as well. The second in the chain of restaurants of the same name is nurturing the brand da Piero, well known for its delicacies of Istrian and Dalmatian cuisine. The originality of the ambience design lies in the historical achitecture. The pleasent ambient music will open everyone's appetite and make possible to talk without interruptions.

Only the specialties are served here, healthy, tasty and delicious food with carefully selected wines. The knowledgable master of the kitchen will lead you in the wide offer of the Mediterranean dishes and the most delicious delicacies. He picks out every day only the best fresh groceries to make the offer various and of great quality. You will not only witness the unusual visual experience, but you will be entertained by the nice and funny staff maybe even to tears, all in purpose of good health and good meal.